Where to find the best Islam wallpapers? Is there an app that has great Quran wallpapers?
Islamic HD Wallpaper is your answer! Our unique Islamic wallpaper app offers the most beautiful and carefully hand-picked Islamic wallpaper images, Allah wallpapers, Quran wallpapers and Islamic wallpapers for your Android device. With different categories like Allah backgrounds and Quran backgrounds, tons of beautiful Islamic wallpapers and easy-to-use interface, Islamic HD Wallpaper will beautify your device and make it look cooler!
What's better to keep you a proud Muslim and help you stay focused towards god other than a beautiful Islam wallpaper app? Lucky you we made a great Quran Muslim backgrounds app, which can be your amazing source of great Islam wallpapers! On-demand!
✅AN ENORMOUS COLLECTION OF THE BEST ISLAMIC IMAGES
If you want to use the best Islamic wallpapers, Quran quotes wallpapers or if you're looking for Islamic images HD for your smartphone's background, Islamic Wallpaper Hub is the Quran wallpaper app you need! It provides with a great collection with wonderful Islamic wallpapers that you can easily set up as your background. You can select the Islamic wallpaper HD you like the most and it will automatically adapt to your phone's size. It has never been easier to get Allah wallpapers & Quran wallpapers!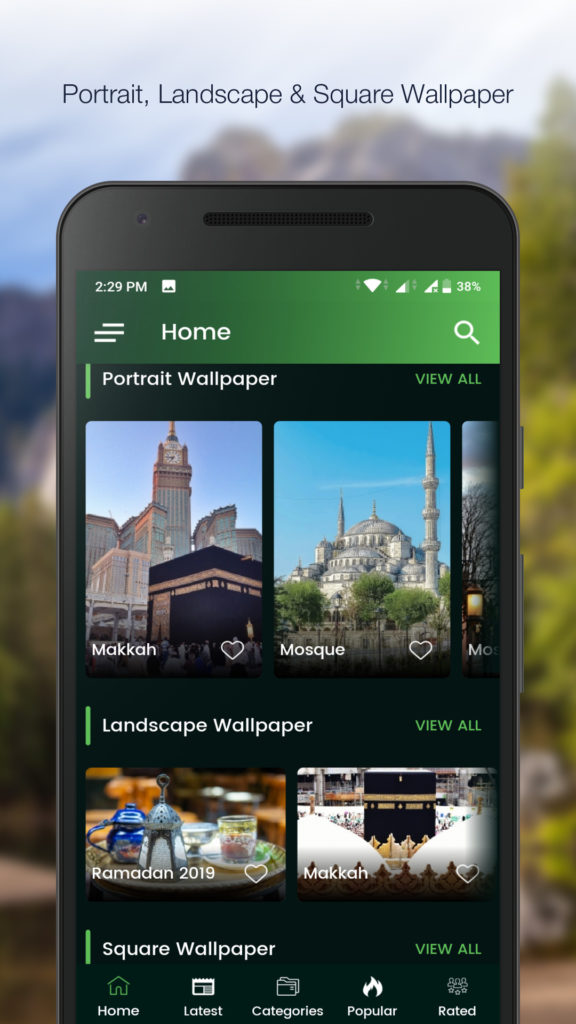 ✅TONS OF ISLAM WALLPAPER CATEGORIES
Enjoy free and beautiful Islamic wallpapers and show the world the greatest pieces of Islamic art, choose a background with a deeper meaning. Browse through the Islamic wallpaper app's categories, such as Islamic Images, Islamic Wallpapers, Quran wallpapers, Mosques, Dua, Eid Celebration, Allah wallpapers and many more. Discover the most amazing images of the Islamic world. There are Islamic images of Makkah, Madina, Quran, famous Mosque wallpapers, Ramadhan, and many more Muslim wallpapers!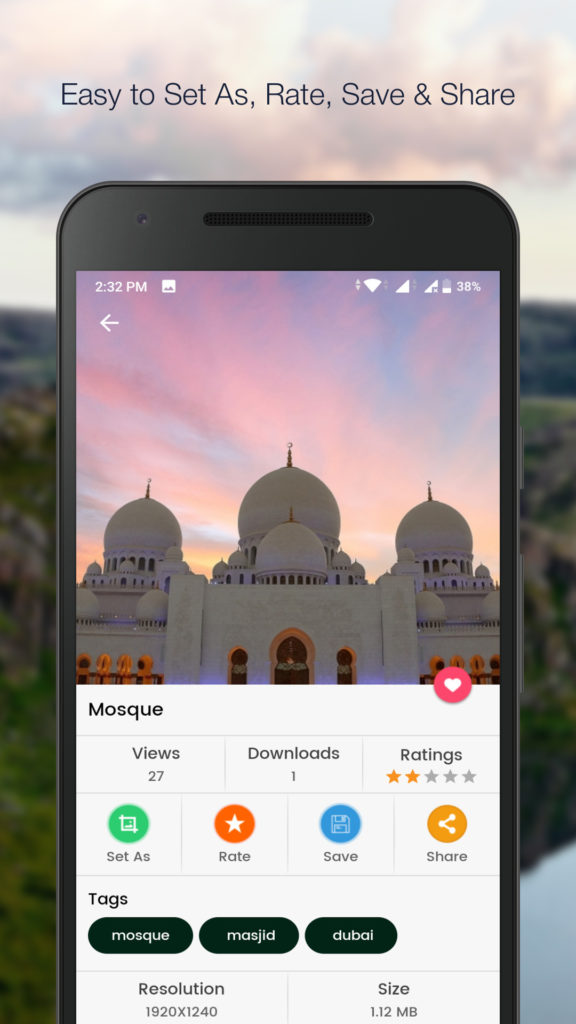 ✅CROP, SAVE & SHARE YOUR FAVORITES
Crop and save any part of the wallpapers you like. Select different Islamic wallpapers from various categories of the Islamic world, save the ones you love the most to your own list of Favorites and easily share them with friends and family via Facebook, Twitter, e-mail, WhatsApp, etc. There are both square, portrait and landscape backgrounds. There is nothing stopping you to enjoy a stunning Islamic photo gallery with hundreds of Islamic wallpapers and backgrounds! Make sure you follow our popular backgrounds list too!
ISLAMIC WALLPAPER HUB FEATURES
✔️ Carefully picked Islamic wallpapers HD
✔️ Choose from different categories of Quran quotes wallpapers & Allah backgrounds
✔️ Hundreds of beautiful Islamic backgrounds
✔️ browse all Quran quotes wallpapers
✔️ Designed with the friendly user interface so you can easily enjoy hundreds of Muslim wallpapers.
✔️ Regular content updates & new Islamic wallpapers
✔️ Save your favorite Muslim wallpapers
✔️ Share the Islamic wallpapers you like
✔️ latest and popular categories
✔️ square, portrait and landscape Muslim wallpapers
✔️ FREE to use Islamic wallpaper app
– – – – – – – – – – – – – – – – – – – – – – – – – – – – – – – – – – – – – – –
Now it's the time to refresh your phone with all new Muslim Allah wallpapers!
Stay focused towards god and show your love and appreciation towards the world of Islam by having the best Islamic wallpapers for your screen!
Download Islamic Wallpaper HD for FREE and enjoy the most amazing Muslim wallpapers on your phone!
If you have a query regarding this app feel free and contact us. Also, let us know if you have any feedback & suggestion for this app.
Comment below
or
Email – [email protected]